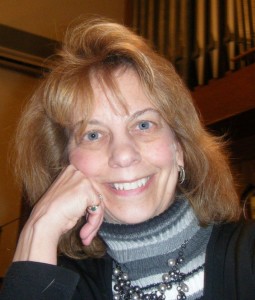 Title: Organ Concert – 10-25-15
Location: Union Sunday School
Description: Deborah Krauss Smith of Monroe, WI, will be the featured organist at the October 25, 2015 organ recital in the Union Sunday School, Clermont, IA. She has served congregations of varying denominations as a church musician for over 40 years in churches in Monroe, Eau Claire, WI and Madison, WI.
In addition to being an organist, she has established and directed large church music programs which included vocal choirs of all ages, hand bell choirs, instrumentalists, soloists and ensembles. She wrote and arranged music for those groups. Ms. Krauss Smith has also worked as a public school music specialist, maintained a private piano/organ studio, and did adjudicating for the Wisconsin School Music Association.
A summa cum laude vocal music education graduate of the University of Wisconsin-Eau Claire, Ms. Krauss Smith has a double applied major in both organ and voice, having begun organ studies in Monroe, WI. She is a member of the American Guild of Organists (AGO), currently serving as President/AGO Dean of the Madison-based Association of Church Musicians (ACM) and Madison Chapter of the American Guild of Organists.
Ms. Krauss Smith's interest in music is apparent in her establishment of the Midday Masterworks, a quarterly mini-recital organ series at the United Methodist Church of Monroe, WI, adding a reprise program at St. Victor Catholic Church (Monroe). In 2012 and 2014, she was invited to lead hymn sings playing the Klais organ at the Overture Center for the Arts in downtown Madison, WI.
Following the recital, the Clermont Historical Society will provide refreshments at the Clermont Opera House – one block from the Union Sunday School where the audience can meet and greet the performers. Both the Concert and Tea are free.
The Organ Recital Series is co-sponsored by the State Historical Society of Iowa and the Clermont Historical Society.
Start Time: 2:30 p.m.